Investments will work to advance health equity, behavioral health access, and address social determinants of health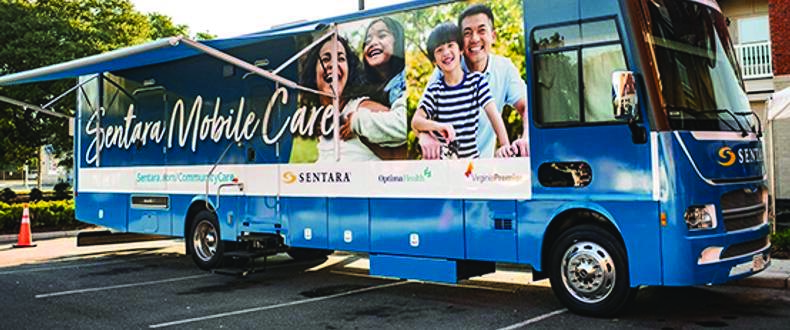 Sentara Health announced the allocation of $5.3 million in funding to support 137 partner organizations across Virginia and North Carolina. These investments, along with the more than $10 million awarded in the 2022 grant cycles, represent Sentara's ongoing commitment to addressing social determinants of health and improving access to care for historically underserved communities. The organization's efforts are further bolstered by grassroots partnerships with community and faith-based organizations.

Over half of Sentara's total investment this grant cycle will support community-based health equity programs and initiatives centered around behavioral health and equitable access to health care for underserved communities.

"We believe that by investing in local, community-based health equity programs and initiatives, particularly in areas of behavioral health, health care accessibility, and affordable housing, we can make a significant impact on improving the well-being of underserved populations," said Sherry Norquist, MSN-RN, ACM, Executive Director of Community Engagement and Impact at Sentara. "Together with our community partners, we are dedicated to creating a positive and lasting change in the communities we serve."

One notable example of Sentara's commitment, is the $500,000 grant awarded to the Hampton Roads Community Health Center (HRCHC) for the replacement of a mobile dental van specifically designed to serve vulnerable populations in the community. The mobile dental care van provides exams, X-rays, restorations, cleanings, extractions, and full and partial dentures. The van is also equipped with a television, speakers, and an awning to accommodate outreach events.

Sentara also announced the creation of a $2 million behavioral health innovation fund aimed at improving access to behavioral health services throughout Virginia. This fund will focus on enhancing the response system for behavioral health needs within the state.

Accessibility to affordable housing remains a focus for Sentara. In addition to the housing grants allocated this spring, Sentara partnered with Local Initiatives Support Corporation (LISC) Hampton Roads to contribute $100,000 to the Hope House Foundation in the Market Heights community in Norfolk, Virginia. Additionally, Sentara invested $11 million to support the Marshall-Ridley Choice Neighborhood Initiative in Newport News, Virginia.

Sentara places a high priority on funding community partners and initiatives that align with its key focus areas: health accessibility, behavioral health, housing, workforce training and career development, food security, and social determinants of health. The community partners receiving funding from Sentara encompass the various regions it serves, including Hampton Roads, Central Virginia, Northern Virginia, Southside Virginia, Shenandoah Valley, Northeast North Carolina, as well as organizations that operate across the entire Commonwealth. These community partners include:
Hampton Roads
Care For Me Youth Initiatives — Virginia Beach
Center for Child & Family Services — Newport News
Children's Hospital of The King's Daughters (CHKD) — Norfolk
Communities In Schools of Hampton Roads — Portsmouth
First Calvary Baptist Church — Norfolk
Habitat for Humanity South Hampton Roads (SHR) — Norfolk
Healthy Living Center — Norfolk
Hispanic Chamber of Coastal Virginia — Norfolk
Horizons Hampton Roads, Inc. — Norfolk
Housing Development Corporation of Hampton Roads (HDCofHR) — Newport News
Housing Virginia Campaign, Inc. — Richmond
Indigo Center for Autism — Virginia Beach
MaxStrong Memorial Fund — Norfolk
New Hope Christian Community Center — Norfolk
Park Place Health & Dental Clinic — Norfolk
Paul D. Camp Community College Foundation — Franklin
PIN Ministry — Virginia Beach
REACH, Inc. (Reading Enriches All Children) — Norfolk
Second Calvary Baptist Church — Norfolk
Southeastern Virginia Health System — Newport News
Stop The Violence 757, Inc. — Chesapeake
Survivor Ventures — Norfolk
T2 Fitness Foundation — Virginia Beach
The Center for Sexual Assault Survivors — Newport News
The Eliza Hope Foundation — Virginia Beach
The Union Mission — Norfolk
Tidewater Community College Educational Foundation — Norfolk
Virginia Beach Rescue Squad Foundation, Inc. — Virginia Beach
Western Tidewater Free Clinic, Inc. — Suffolk
York County — Yorktown
Your Wellness, Inc. — Virginia Beach
YWCA South Hampton Roads — Norfolk
Virginia Peninsula
City of Hampton — Hampton
Olivet Medical Ministry, Inc. d/b/a Lackey Clinic — Yorktown
Bacon Street Youth and Family Services — Williamsburg
3e Restoration, Inc. — Williamsburg
Community of Faith Mission, Inc. — Williamsburg
Ketchmore Kids — Newport News
Ivy Community Outreach, Inc. (ICO) — Newport News
Williamsburg Area Meals on Wheels — Williamsburg
Empowering Transgender Services — Hampton
Hampton Roads Urban Agriculture — Portsmouth
Dreams of Hope Foundation — Newport News
ECHO Orphancare Partners — Hampton
Williamsburg Regional Library — Williamsburg
When The Trumpet Sounds — Williamsburg
Versability Resources — Hampton
Central Virginia
African American Pastors Council of Charlottesville and Vicinity — Charlottesville
Bennett's Village — Charlottesville
Bethel Youth Alive and Multi-Purpose Center — Charlottesville
Central Virginia Farm Workers Initiative — Shipman
Charlottesville Ballet — Charlottesville
Charlottesville Community Bikes — Charlottesville
Charlottesville Redevelopment & Housing Authority — Charlottesville
Child Health Partnership — Charlottesville
ChildSavers — Memorial Child Guidance Clinic, — Richmond
Common Ground Healing Arts — Charlottesville
Cultivate Charlottesville — Charlottesville
Feeding Greene Inc. — Stanardsville
Fluvanna Meals on Wheels, Inc. — Palmyra
Greater Richmond Fit4Kids — Richmond
Habitat for Humanity of Greater Charlottesville — Charlottesville
Hospital Hospitality House of Richmond d/b/a The Doorways — Richmond
Jefferson Area Board for Aging (JABA) — Charlottesville
Jeremiah Foundation, Inc. — North Chesterfield
Loaves & Fishes Food Pantry — Charlottesville
Market Central — Charlottesville
Meals on Wheels of Charlottesville/Albemarle — Charlottesville
New Beginnings Christian Community — Charlottesville
Orange County Free Clinic — Orange
Piedmont Family YMCA — Charlottesville
Reclaimed Hope Initiative — Charlottesville
St. Joseph's Villa — Richmond
The Confess Project of the Southeast — Richmond
The Haven at First & Market — Charlottesville
The Journey Home, Inc. — Mineral
The Maggie Walker Community Land Trust — Richmond
The Uhuru Foundation — Charlottesville
The Women's Initiative — Charlottesville
United Way of Greater Charlottesville — Charlottesville
Urban Hope Inc. — Richmond
Viewpoint Services — Richmond
Wintergreen Rescue Squad — Roseland
Northern Virginia
Catholic Charities, Diocese of Arlington — St. Margaret of Cortona Transitional & Maternity Housing — Arlington
Lorton Community Action Center — Lorton
Northern Virginia Emergency Medical Services Council — Gainesville
Northern Virginia Food Rescue — Manassas
NOVA ScriptsCentral — Falls Church
Nueva Vida — Alexandria
Prince William County Area Agency on Aging — Woodbridge
Shepherd of the Hills Lutheran Church — on behalf of Crossroads Connection —Haymarket
The House, Inc. — Woodbridge
The Women's Center — Vienna
United Way of the National Capital Area — Vienna
Youth For Tomorrow New Life Center, Inc. — Bristow
Southside Virginia
South Central Workforce Development Board — Charlotte Court House — Charlotte
Danville Redevelopment and Housing Authority — Danville
House of Hope — Danville
Community Arts Center Foundation — South Boston
Halifax County-South Boston Public Library System — Halifax
Lean in Project VA, — Richmond
Feeding Southwest Virginia — Salem
Danville Life Saving Crew — Danville
Southern Virginia Higher Education Center — South Boston
Shenandoah Valley
Blue Ridge CASA for Children — Staunton
Community Gear Library — Harrisonburg
Elkton Area United Services — Elkton
Friends of the Shenandoah Trail — Woodstock
Goodwill Industries of the Valleys, Inc. — Roanoke
Health Equipment Loan Program (H.E.L.P.) — Churchville
Harrisonburg City Schools Family and Community Engagement Department — Harrisonburg
Harrisonburg Rockingham Community Services Board — Harrisonburg
Hope Distributed, CDC — Harrisonburg
Mental Health America of Augusta — Staunton
Ride With Pride — Staunton\
Rockingham County — Harrisonburg
United Way of Harrisonburg and Rockingham County — Harrisonburg
Northeast North Carolina
Albemarle Alliance for Children and Families — Elizabeth City
Albemarle Commission as fiscal agent for Northeastern Workforce Development Board — Hertford, VA
Albemarle Regional Health Services — Elizabeth City
Camden Babe Ruth Association (Camden Youth League) — Camden
Camden County — Camden
Dream Hunt & Fishing Program — Elizabeth City
Elizabeth City Habitat for Humanity — Elizabeth City
Faith & Victory Christian Church — Elizabeth City
Grandy Primary PTO — Camden
Kids First, Inc. — Elizabeth City
Pasquotank-Camden Emergency Management — Elizabeth City
Salvation Army-Elizabeth City — Elizabeth City
Statewide
American Heart Association — Glen Allen, VA
American Red Cross of Coastal Virginia — Norfolk, VA
Baptist General Convention of Virginia — Richmond, VA
Foundation for Rehabilitation Equipment and Endowment (F.R.E.E.) — Roanoke, VA
Here for the Girls, Inc. (H4TG) — Williamsburg, VA
Rx Partnership — Richmond, VA
Virginia Down Syndrome Association — Richmond, VA
Virginia Victim Assistance Network — Henrico, VA
Fall 2023 Grant Cycle opens August 1
Sentara will accept grant applications for the Fall 2023 Grant Cycle from August 1 through September 1, 2023. Community and non-profit organizations are encouraged to visit Sentara Cares for additional information about partnership and funding opportunities.

In 2022, Sentara invested $260 million to support Virginia and North Carolina communities, including $6.7 million in health education and prevention programs, $48.5 million in teaching and training opportunities for healthcare professionals, $48 million in community giving, and $157 million in uncompensated patient care. To learn more about the many ways that Sentara partners with the community, visit Sentara's 2022 Community Engagement and Impact Report.