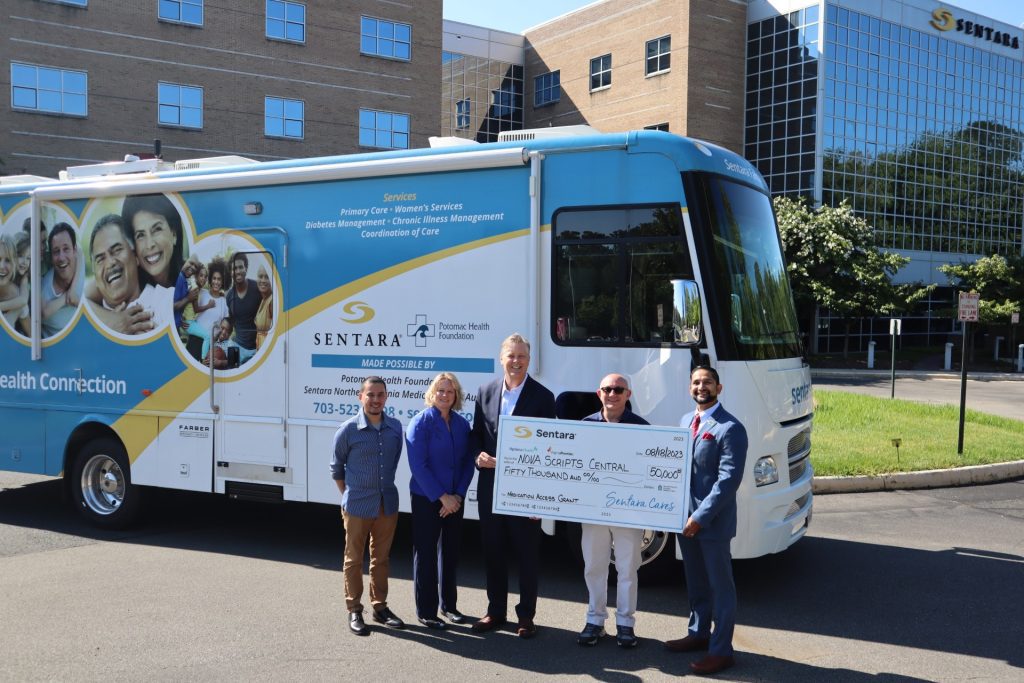 Sentara Health is proud to award NOVA ScriptsCentral (NSC) a $50,000 Sentara Cares Grant to support medication access for patients receiving care from the Sentara Family Health Connection Mobile Clinic. Sentara Northern Virginia Medical Center (SNVMC) and NSC both share a common goal in helping underserved communities access quality health care.
"Our collaboration with NOVA ScriptsCentral is an example of how non-profit organizations can successfully partner to empower individuals to make good health a priority," said SNVMC President Jeff Joyner. "With so much diversity in the region, this means offering a variety of medical services and treatment options for people from different backgrounds and situations. No one organization can do it all."
Founded in 2006, NSC's mission is to provide quality integrated pharmaceutical care and medication access to low-income uninsured children and adults in Northern Virginia. Offering medication access, culturally competent health education content, guidance to medical providers, a free immunization program for children K-12th grade entering school, and more, NSC recognizes the importance of collaboration within the communities served. To date, NSC has reached over 30,000 patients and filled 625,000+ months of prescription medication valued at over $80 million.
"What we do here through NOVA ScriptsCentral gives our community new chances each and every day," said NSC Executive Director Donney John, PharmD.
SNVMC, through the Sentara Family Health Connection Mobile Clinic, has been working in collaboration with NSC to improve access to care and medication services. The Sentara Family Health Connection Mobile Clinic program serves residents in Eastern Prince William and Northern Stafford counties who wouldn't otherwise receive care. The program has grown to include two mobile clinics that travel to various sites throughout the week. Services include preventative health maintenance, physicals, well-woman exams, cancer screenings, chronic illness management, sick visits, pregnancy testing, medication assistance, and referrals to specialists.
More information about Sentara Cares is available at www.Sentaracares.com. The Fall 2023 grant cycle is open until September 1, 2023.