FOCUS AREAS
ADDRESSING THE SOCIAL DETERMINANTS OF HEALTH
about transforming the lives of our neighbors by focusing on the root factors that affect our health beyond the clinical care we receive.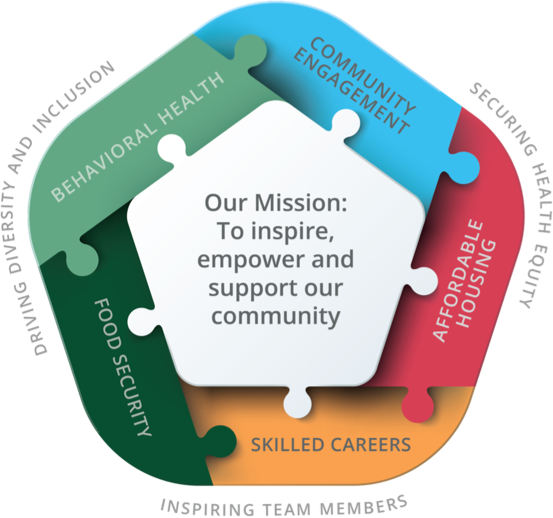 To truly live our mission to improve health every day, we must help to:
Fill the unprecedented need for behavioral health practitioners in the field and ensure greater access to behavioral health services for children, families, and adults.
Secure consistent, equitable access to nutritious food — every day and in times of emergency need.
Support targeted training and development programs for higher-paying skilled careers.
Develop more robust emergency and scattered housing solutions in our communities.
Dismantle barriers to accessing health and human services in traditionally underserved populations.
In addition, we mustn't lose sight of engaging organizations and supporting assets that strengthen the very fabric of our communities, such as arts and cultural programs and recreational features that can unite us and foster a greater appreciation for the places we call home.
To ensure we're consistently meeting locally identified needs, we also conduct periodic Community Health Needs Assessments to guide our priorities and community commitments.