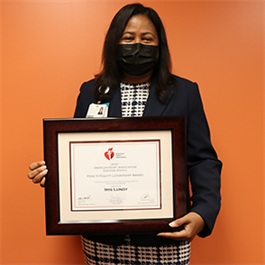 The American Heart Association (AHA) has named Iris Lundy, Sentara Healthcare Director of Health Equity, as the recipient of the 2021 AHA Eastern States Health Equity Leadership Award.
The Eastern States Health Equity Leadership Award recognizes an AHA volunteer whose leadership efforts display a commitment to achieving maximum impact in equitable health and wellbeing, and to addressing social factors that influence health outcomes. Award recipients are chosen based on specific, identifiable contributions and a strong commitment to health equity, diversity and inclusion.
MeShall Hills, AHA's Executive Director, presented the award to Lundy in person on Monday, Oct. 11.
"I am pleased to present this award, as well as a small token of our appreciation, to Iris for her contributions in the field of health equity and for everything she does in the community to move the needle in addressing health barriers. We are so thankful to have her as a volunteer," Hills said.
Lundy, who works on the AHA Executive Leadership team and is a partner within AHA's Community Impact sector, was nominated for her work in closing inequity gaps and creating strategies to address disparities in underserved populations, helping to identify additional community partners to advance health equity, and being an advocate for equity, diversity and inclusion in her communities.
Some of Lundy's specific contributions, on behalf of Sentara, to AHA's work include:
Executing hypertension screening events alongside AHA
Joint work with Black churches through AHA's Healthier Church Challenge
Leading efforts to bring the AHA Simple Cooking with Heart program to vulnerable residents
Working through AHA's Go Red for Women initiatives to address health disparities for women
Being a leader in AHA's work around Black maternal health
"Society as a whole is navigating a divisive time. I have had the privilege of working with the American Heart Association and our community at large, and we have come together and rallied around one goal: improving the health of our communities. I have hope that we can make a difference through our collective impact," said Lundy.
In addition to the award, Lundy received a small decorative plate that displays the artwork of a Virginian first grader who has undergone multiple heart surgeries. The plate reads, "Heart research grows and so do I because of YOU!"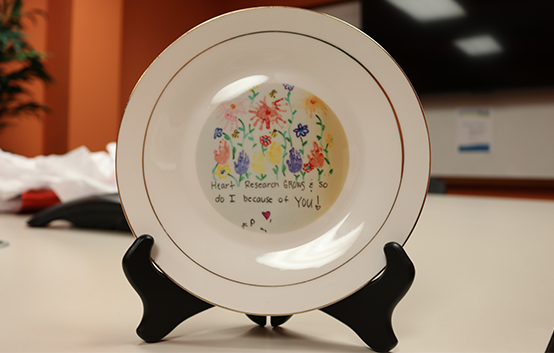 Lundy, a registered nurse, has worked at Sentara for nearly 20 years and became Sentara's Health Equity Director in 2019. In line with the Sentara Healthcare mission of improving health every day, she has worked to identify and address health disparities and other inequities in all of the communities Sentara serves. Her work has been especially instrumental in ensuring that COVID-19 testing and vaccines were readily available and accessible to underserved and underrepresented communities affected disproportionately by the COVID-19 pandemic.
About the AHA Eastern States Health Equity Leadership Award
AHA Eastern States Health Equity Leadership Award nominees are vetted and chosen by the AHA Eastern States Board and ES Volunteer Award Committee. The Eastern States region includes Connecticut, Delaware, the Greater Washington Region, Maine, Maryland, Massachusetts, New Hampshire, New Jersey, New York, Pennsylvania, Rhode Island, Virginia, Vermont and West Virginia.